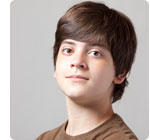 This checklist is a low-literacy, gender-neutral checklist of healthy relationship behaviors and characteristics on one side, and unhealthy relationship characteristics and behaviors on the other side.
This checklist is a powerful tool to open a dialogue about intimate partner violence, abuse, and unhealthy relationships.
We recommend placing these checklists in waiting rooms and exam rooms where patients may use them privately and/or ask you questions about them. They can be used for helping patients who may be struggling with what they think and feel about their relationship(s). Patients have also told us that they have given these to friends and family members they are concerned about.
We recommend that patients and others be careful to give this checklist away privately and confidentially if they are concerned that someone might be in an unhealthy relationship.